Interior Shutters
  Interior shutters by Orange County Shutters are a simple way to add value and a elegant and cozy look to any room in your home. More importantly though they help keep your rooms warmer, give you privacy, are safer than blinds that use cords, and they also make it easy to bring sunlight into your house. They will give your home that classic look that adds enduring value for many years to come.
We are often asked what wood is best for interior shutters and we say, basswood. We love to use basswood because it is lightweight and has the highest strength to weight ratio of all woods.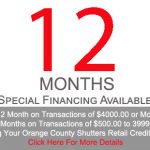 This translates to less failure and sag that can happen with the same width panels in synthetic materials.
Orange county Shutters are custom made from premium grade basswood per your specifications and window measurements. We sell shutters for any size window.
You interact daily with your interior shutters so you except them to be durable and safe. Our shutter panels are constructed using mortise and tenon  joint which brings you the strongest joint possible.  Handcrafted  to assure that our interior wood shutters provide the maximum strength possible.
We engineer our interior shutters with tension control so to eliminate that sloppy lose louvers problem that is most prevalent in cheaper imitations. Our wood interior shutters are made without cords, which makes them a safer option for homes with children and pets. If you want more visibility, order your shutters with hidden tilt rods which places the rods on the side, whereas the common type shutter as them down the middle.
A Few Benefits of Orange County Shutters
Same Day, Weekend, and Evening Appointments Available
Financing Available
Insured & Bonded
Over 20 years experience
Permanent window coverings providing timeless elegance
Energy efficient insulator
Numerous paint and stain options available
Louver sizes available: 2 ½", 3 ½", and 4″
Custom fit traditional and decorative window designs
Lifetime Warranty