Orange County Shutters, Cleaning Instructions.
Orange County Shutters has had allot of customers who ask how do I care for my Orange County Shutter brand of shutters. With our premium paint and stain finishes our shutters they are very easy to maintain and take care of. Below are a few easy steps to make sure your shutters stay beautiful for years to come.
1. Make sure to dust your Orange County Shutters regularly. A Swiffer 360 duster works the best in my opinion. Dust is a major paint eater make sure to keep your shutters dust free.
2. With our finish just dusting should work fine, but if you feel you need to clean them a bit deeper you can use a lightly dampened soft cloth or Pledge Multi-Surface cleaner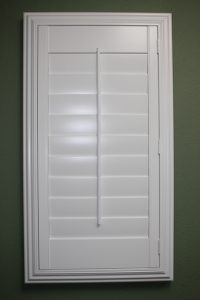 with a soft cloth work the best. Do not use and oil based products on the painted surface because the oil attracts dust.
3. Now that your Orange County Shutters are clean you can tighten the tension adjustment ONLY if needed by removing the adjust screw cap on both the left and right side. Then take a phillips head screw driver and adjust the screw 1/8″ turn both on the left and right side until your desired tension is achieved.
4. Now that your shutters are clean and adjusted sit back and enjoy your wonderful wood plantation shutters.
With Orange County Shutters we make every step from ordering to after care a breeze. If you would like more information about how to care for our shutters of would like to talk to one of our professional shutter design consultant about purchasing plantation shutters feel free to contact us. Orange County Shutters will bring the warmth and beauty of  shutters to your home. Our window shutters are handcrafted with the finest 100% basswood. Furniture grade non yellowing lacquer paint finish with UV inhibitors used on all custom basswood window shutters.